I am presenting an example of how we used Facebook effectively at Dominican University–but I hope this information was already obvious. This is partly a reminder to myself about what works and to force myself to repeat a successful use of Facebook.
National Library Week was a few weeks ago, and our library's administrative assistant Sharon Tobin and Photoshop whiz got the idea to make posters for the week with the theme "Keep Calm and Read On". (She is also my officemate and we are pretty much a Masterpiece Theatre appreciation society in here). We always have our own National Library Week theme that has pretty much nothing to do with ALA's theme. Works for us.
Anyway, the posters were a huge hit. (This one is mine). I pushed them heavily on the blog, the library website, and for the purposes of this post, the Facebook page.
Here are the Facebook statistics for that week (This was the most popular post of the week.) :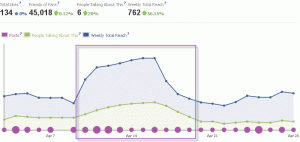 Note the huge spike in mid-April, which immediately fell after the end of the week, when we went back to our usual posting routines.
Why? Well, it was a clever idea, timely, and featured interesting sets of images that people wanted to click through and look at. These are all hallmarks of good Facebook material. My advice for good use of Facebook is to look around and see the clever and interesting ideas of the people at your library, and show them on Facebook. It may not revolutionize library service, but it may enlighten, instruct, and/or entertain your patrons, which is certainly an important part of the role of the library.