Last weekend was the Pitchfork Music Festival, which Mike and I have gone to every year. We have to been to seemingly innumerable music festivals by now, and spent much of the weekend trying to sort it all out. Nothing will be more memorable to us, however, than summer music festival season 2005.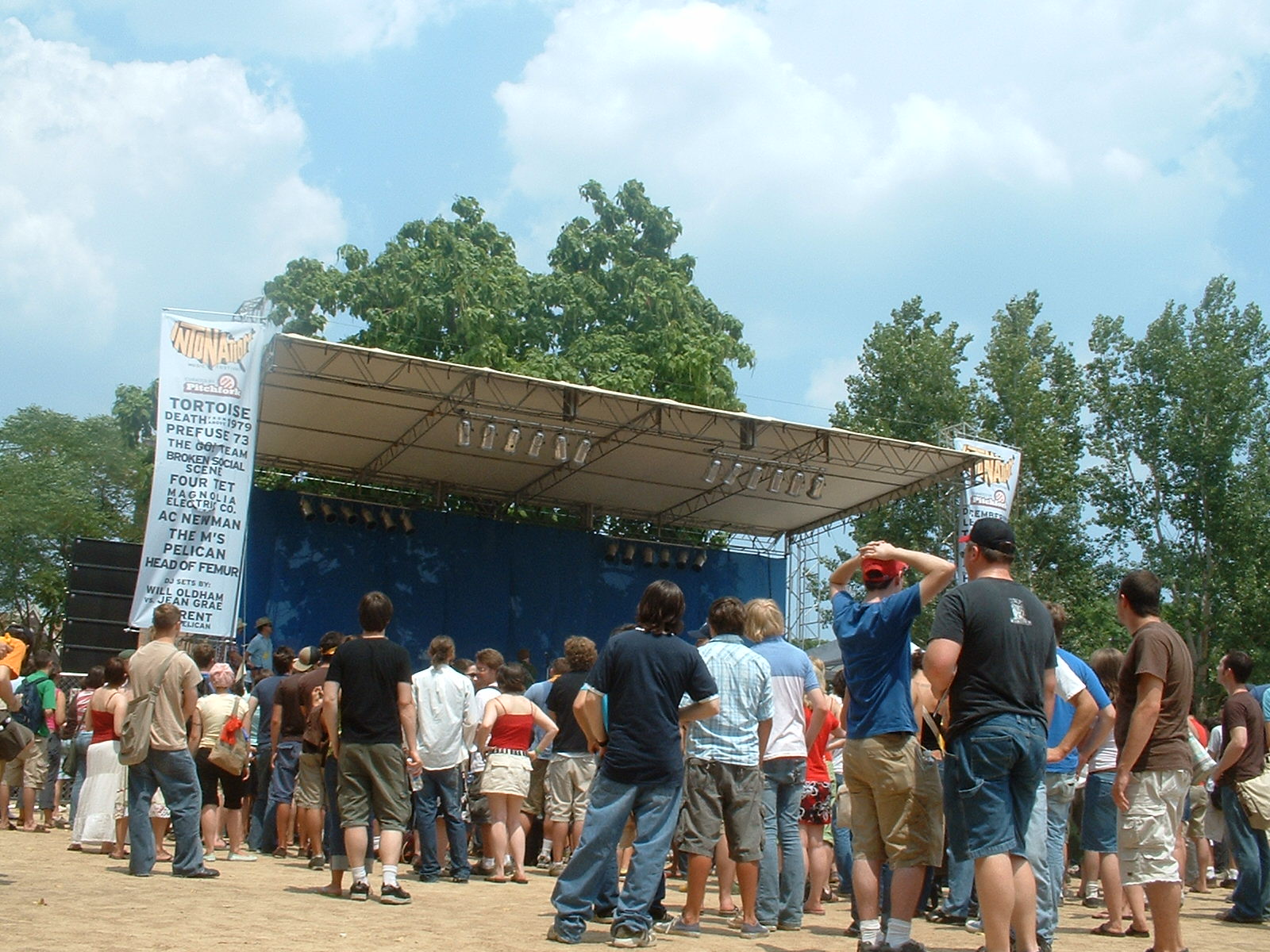 For one thing, we met in mid-June of 2005, shortly before the Intonation Music Festival curated by Pitchfork (and therefore the first Pitchfork Music Festival even though it technically wasn't). Asking people about Intonation was my way of telling if someone was cool—I was trying to do some online dating, and this was a good way to screen people. So when I met Mike I immediately asked him if he was going to Intonation, and he said, "Of course." I figured I would date him for a few weeks at the very least so I would have some people to hang out with at the festival. Three years later we were married, but that's a different story. The line-up can be found here, and Sunday was the best day—I'll never forget the Decemberists set.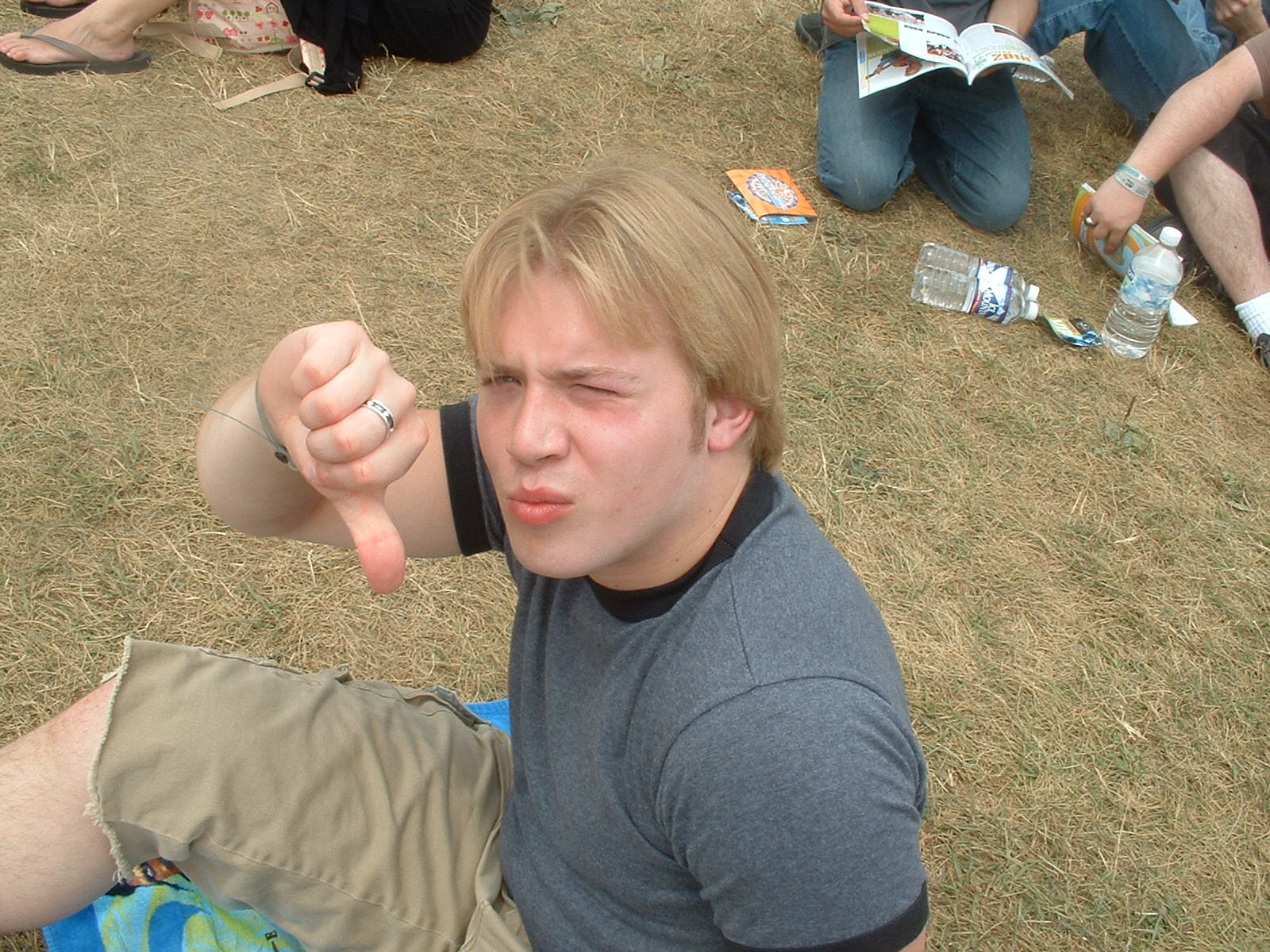 The next weekend was Lollapalooza in its new, stationary form. My dear friend Grant and I had been planning for months and months to attend Lollapalooza, for in which in March we managed to score $35 two day passes. Around the same time we were discussing purchasing these passes we were also talking about going to New Orleans for spring break, and I decided not to go because "New Orleans will always be there." How ironic. I wouldn't make it New Orleans for another two years, but I did make it to Lollapalooza. It was 105 degrees the whole weekend and a gajillion people, and we didn't like all the music, but for all that, I'm still glad I went and now don't feel the need to spend $200 on a ticket these days. The photo shows Grant's reaction to, I believe, And You Will Know Us by the Trail of Dead, which I enjoyed. The best set was Arcade Fire, who shocked me by none of them passing out while playing, despite wearing black suits in the hellish weather.
The streak wasn't over yet. The following weekend was Wicker Park Fest, and we went on Saturday. How could we miss this line-up?
4:00 pm
Scotland Yard Gospel Choir
5:15 pm
Head of Femur
6:30 pm
Turing Machine
7:45 pm
Okkervil River
9:00 pm
Olivia Tremor Control
Besides the excellent music and good friends, this day was memorable for several awkward encounters. I happened to see someone I'd gone with an internet date with earlier in the summer, and a waitress waylaid me outside the bathroom for not leaving a good enough tip. I did have excellent reason in that the restaurant only took cash, was extremely expensive, and none of us was exactly employed at that time. Sarah and I ended up digging in our pockets for change to try to make a better tip, but I wanted to die right at that moment.
I have never gone to three music festivals in three consecutive weekends again. I mean, come on. Once was enough.